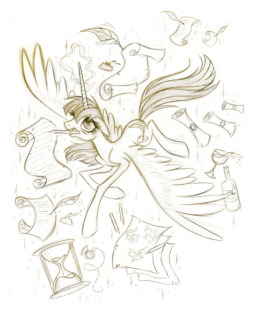 Source
Have you ever heard of a mare named Faust? She's an Alicorn, just like the Princesses, but not a princess herself. Some say she's a queen, some say she's their mother. The truth, well... she's really overworked. And with her duty as The Equestrian Archivist she has a pretty demanding job. But what happens when this overworked alicorn decides that she wants to take a vacation in Ponyville? Furthermore, what'll happen when she skips out on her job to take that vacation?
(My first story! A different take on Fausticorn, I've seen her given a general persona that just doesn't seem like what I saw in the original art. So here's my idea of what she might be like. Tags will be added as the story continues.)
HOLY.... F-Featured on December 21 2014! Thanks guys! That is amazing!
Chapters (37)