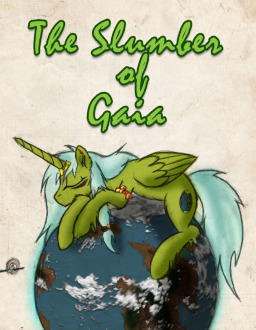 Source
In the magical land of Equestria, two alicorn sisters raise the Sun and the Moon every day to give the world a night and day cycle, basic for the survival of life. There are also two alicorns who rule over two very core aspects of life and harmony itself. Those are Love and Friendship. While not as ancient as the two sisters, all princesses are essential to the world's balance.
This balance is also sustained by the hard-working ponies, who make the seasons change and manage the weather to fit their needs, so everypony has enough food and water, and every animal is also attended to assure that any of them are caught in the changes of seasons.
But what about the planet itself? What about Mother Nature?
This is the question that Gaia asks when she arrives to this foreign world. After so much work her son persuaded her to take a long vacation in Equestria, saying that she needed one and assuring her that he would be in charge now, and she must take a break. But what can a several billion-year old alicorn possibly do to pass her time in this land?
(SimEarth/MLP Crossover)
(Timelife of Gaia's life 'till the start of the story)
Chapters (36)