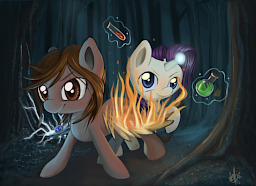 Source
Co-writer Pinklestia have done alot of work go give her work a look!
The land of Skyrim is harsh and unforgiving. At least I had managed to avoid most of it.
I do not belong here. I was from Earth and had been trapped in Skyrim for far too long. Borrowing the Elder Scrolls from my friend, I left the dimension in the hope of escaping back to Earth. Hoping to be able to live in a peaceful world once more.
Then I died. Glad I didn't have to feel it. Besides, I got better.
Why is there a little white unicorn? Oh my god! What the heck is that?! Kill it with fire!
Chapters (19)