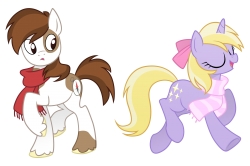 Over their lives, Pipsqueak and Dinky have some crucial realizations that help them move on from their past and accept the future.
Three chapters, three stages in their lives.
Sequel to Pirates For A Day.
If you read the first story and loved it for the lack of shipping and pure childlike innocence, then I urge you not to taint the memory by reading this sequel. Pipsqueak and Dinky are shipped together, unlike the original.
Chapters (3)