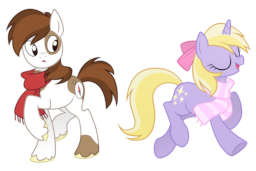 Source
Finally fulfilling his dream, Pipsqueak goes to sea to explore the lands that lie behind the far horizon.
But when he got hired as a simple sailor on an overseas expedition, the stallion never thought it would end like this.
Trapped in a small storeroom he writes his love at home one last bottle post...
---
This is just a small byproduct of my mind while I am working on a bigger project. It popped up in my head, wouldn´t let go and blocked any creativity, so I had to get it out of there...
PS: Picture isn´t very fitting, I hope nobody minds... (Isn´t very much Pip+Dinky art out there)
Chapters (1)