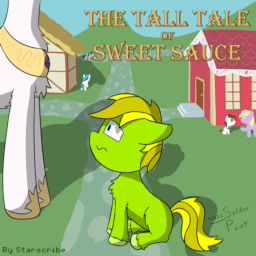 Sweet Sauce was once a Stallion of renown and stature, a pony others respected and admired. Unfortunately for him, all that success eventually turned to pride, and ended with a sentence of banishment from Equestria.
There was no term to his sentence--but Sweet Sauce was not the kind of pony to surrender. He had centuries to reflect, to reconsider, and to gather power for his triumphant return. But perhaps he should've spent a little more time.
His incredible spell worked, returning him to the world of his birth. But instead of his own powerful body, he's now a small, useless earth pony, in a world that has forgotten he ever existed. Sweet is determined to make up for his mistakes, and to prove to the princesses of Equestria that he is a changed pony.
Too bad he looks like a homeless little colt without a cutie mark.
---
Updates Thursdays until complete. Editing by Two Bit and Sparktail. Coverart by Solder Point.
This story was written as a Patreon reward for Boopy Doopy.
Chapters (23)