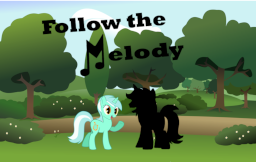 Magical mishaps, moral dilemmas, and multiple contusions -- normal ponies don't have to deal with these things. Too bad Lyle Hartston isn't a "normal" pony. From the normal life of a human to an exciting and hectic life of a pony, Lyle's life is flipped upside down. Things can only get stranger for this brony when he wakes up in Equestria. More surprises await for him as he comes to meet a certain pony by the name of Lyra Heartstrings.
All songs belong to their respective artists.
Special thanks to Toni_PWNeroni and ZST6262 for editing and pre-reading.
I still have old original chapters in html format on mediafire. (Warning: poorer quality)
Chapters (10)