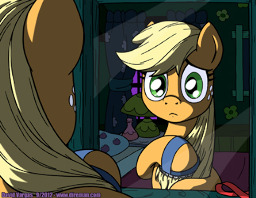 Source
Everypony has secrets, and Applejack is no different. Apple Bloom's looking for answers only her older sister can give, but Applejack doesn't want to talk. If her secrets came to light, she fears they could crush the filly who looks up to her with nothing short of admiration.
Cover image by latecustomer. Story inspired by image.
Featured on Equestria Daily on Nov. 11, 2012.
See also this song, which was featured on Equestria Daily on June 27 and inspired by this story.
Chapters (1)