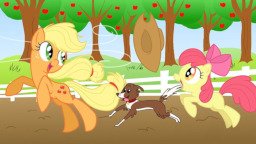 Applejack and Apple Bloom desperately want to get back to the farmhouse, but Winona won't be budged where she lays. What reason could this normally obedient dog have to be so... disobedient?
The answer may surprise you. Or not, if you've skipped to the end already. Talk about impatient.
Featured! Thanks to everyone who read it.

Chapters (1)