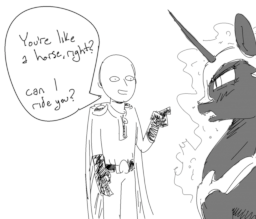 Source
One Punch Man x My Little Pony fan fiction. Mostly just a single action and comedy scene made into a shortfic. Trigger warning for blood and character death.
---
Please check out my other work, and have a great day. PLUS ULTRA or something.
Fully Featured and HOT on 02/6/23, 02/7/23 you crazy bastards really wanted a chapter two.
Chapters (2)