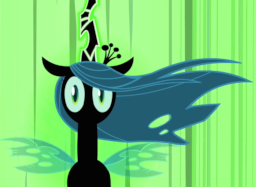 Source
Chrysalis hadn't expected her Canterlot wedding to be interrupted, but she could handle that. She is after all a powerful, cunning, and well fed Queen of a changeling hive. Her plans were too perfect and too far along to fall apart because of one small hitch in the script.
Or so she thought.
She really hadn't expected the second interruption. It made things a little awkward.
A.N.- Special thanks to Thebes for prereading.
Edit- Featured 07/19/2021 Woo hoo! Thanks everyone.

Chapters (1)