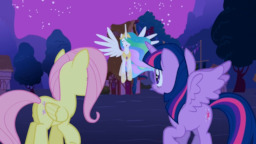 Source
Twilight has just ascended and become Equestria's newest alicorn. Her friends are in awe, and Twilight herself is in shock.
So when Princess Celestia arrives, she isn't sure of what to say to her mentor. But she is sure of one thing, whether Celestia is prepared for it or not.
Celestia's response is not what Twilight ever expected to hear.
Chapters (1)