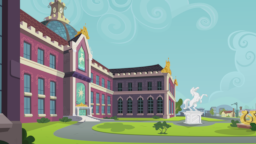 It's Christmas time at Canterlot High. Normally a time for fun and cheer. But no this year it seems. Someone is spreading people's worst and most embarrassing secrets.
Their name? Anon-A-Miss. And the one that seems to be the culprit? Sunset Shimmer. At least according to Applebloom, Sweetie Belle, and Scootaloo.
Unfortunately for whoever is doing it, Canterlot High isn't falling for it. Not after the Battle of the Bands. And even the few that still haven't fully forgiven Sunset for her past bullying, believe she is innocent.
But then, who is the culprit?
Chapters (4)