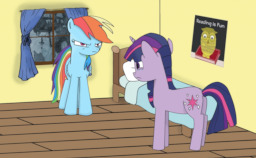 Source
Twilight has been struggling with her feelings for a certain pony lately, but when Rainbow Dash tells her friends a deep secret, Twilight is compelled to reveal her own, but sometimes you should wait a bit to say something so personal to somepony so fragile.
(Wow! I suck at summaries!)
Featured on Equestria Daily back when that meant something.
Chapters (2)