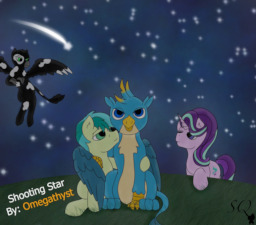 New chapters coming out October 2021!
---
After escaping his birth family and an emotionally abusive lover, Gallus becomes homeless in Griffonstone. Grampa Gruff offers him a new place in Ponyville in exchange for becoming a student at Twilight's new School of Friendship. Gallus discovers new friends, fun hobbies, new romances, and a mother in a pony he never expected. Retelling of Seasons 8-9, and onward.
---
Contains bisexual love triangle, dark themes involving recovering from emotional abuse and flashbacks, self-discovery, falling in love, and much more!
Cover art commissioned by the very talented Snow Quill 😃
Chapters (8)