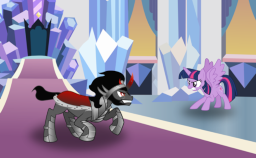 A terrified Flurry Heart arrives at the Castle of Friendship seeking help from her favorite foalsitter.
With Celestia gone missing and no word from Cadence, Twilight has to lead an army to investigate with the help of Rainbow Dash.
Could Sombra have returned and if so what evil does he have in mind and how could she stop him?
This fic takes place after season 6 and some time after Past Sins, drawing upon some of the characters established by the excellent Pen Stroke.
Please note this short story is not a sequel, but a spin-off featuring appearances by some of these characters.
Chapters (7)