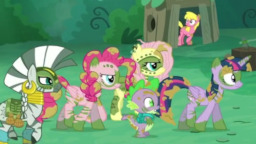 Source
There are many alternate universes.  Princess Twilight Sparkle found a number of them whilst she was duelling with Starlight Glimmer.  These alternative realities were perfectly genuine to those who lived in them.
This is a true story about an Equestria in which Queen Chrysalis had not been defeated when the Changeling Army invaded during the Royal Wedding at Canterlot.  Only a small group of free ponies is left to mount a Resistance.  The future does not look good, but a zebra has a plan.
This can be read as a one-shot or continued to its sequel https://www.fimfiction.net/story/384399/the-end-of-oppression, when Pinkie Pie mounts a rescue mission into the hive.
Chapters (1)