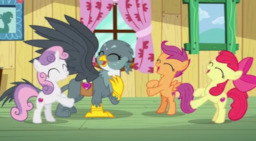 In The Fault in Our Cutie Marks, the Cutie Mark Crusaders make Gabby an honourary Crusader at the end of the episode, and give her a couple of emblems.
What if Scootaloo had come up with one last idea to get Gabby her actual Cutie Mark?
NOT a cop-out solution or Deus ex machina. Credit to R5h for the title.
Day 5 of my Self-Imposed 28 Fics in 28 Days Challenge
Chapters (1)