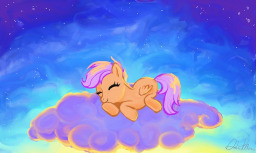 Not long after winning the honor of carrying the Ponyville flag for the Equestria Games, Scootaloo finds herself struggling with schoolwork, friendships, and of course, her inability to fly. While working on an assignment for school, she discovers the existence of a group of powerful psychics that Equestrian royalty consult for many things - including helping parents choose a name for their newborn foals.
Curious, Scootaloo pleads for Princess Twilight Sparkle to meet them and ask the one question that she direly wants to know - "Will I ever be able to fly?"
Despite Princess Celestia's warning, Twilight meets with them - but is the truth worth the price she may have to pay to herself and Scootaloo?
Story takes place after "Flight to the Finish," and then branches from there.
Beautiful cover art was completed for me by my wonderfully talented sister!
Currently undergoing revisions for conventions and grammar issues. Being my first story, there are more than I would prefer.
It has a TVTropes page, put together by Godzillawolf! Right Here!
Chapters (22)