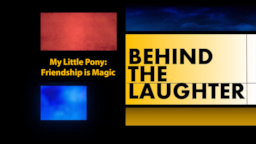 This is the story they never wanted to tell you. This is the story about your favorite characters that has been kept secret. This is the story... behind the laughter. Inspired by The Simpsons' episode of the same name.
Ultimare Universe by Siden. Another Horse Universe by Xebck. Vectors by Xebck, Osipush, OinkTweetStudios and Flash Equestria Photography.
Character tags per season (Spoiler Alert!):
All: Twilight Sparkle (Stardust Nova), Fluttershy (Cottontail), Applejack (Sparkling Cider), Rarity (Ivory), Pinkie Pie (Ink Blot), Rainbow Dash (Prism Wing), Spike (Spyke), Apple Bloom (Apple Spritz), Sweetie Belle (Marble), Scootaloo (Plume), Celestia (Futas Le Rotcerid), Luna (Lunare Le Recudorp), The Creator (OC).
Season 1: Spitfire, Photo Finish, Trixie (Bellatrix Monolaul), Nurse Redheart, Diamond Tiara (Diamond Dazzle), Silver Spoon (Tin Shot), Vinyl Scratch, Octavia (Cameo from Mango Dash).
Season 2: Discord (Q), Big Mac (Mulled Cider), Cheerilee (Chirpy Tune), Fancy Pants, Derpy, Doctor Whooves, Shining Armor (Bolero), Cadance (Gleaming Shield), Chrysalis (Christine Allyster) (Cameos from Fleur Dis Lee and Fluffle Puff).
Season 3: Lightning Dust (Indigo Zap), Amethyst Star, Dinky, Gilda, Flash Sentry (Cameos from Dan and Pauly Sentry).
Season 4: Bulk Biceps, Suri Polomare (Shauna Tubleu), Coco Pommel (Gabrielle Chand de Lier), Lyra, Bon Bon, Cheese Sandwich (UHF), Maud Pie (Izzy Rock), Limestone Pie (Decibelle), Marble Pie (Cashmere).
Season 5: Sunset Shimmer (Evening Blaze), Starlight Glimmer (Nightfall Shine), Tree Hugger, Minuette, Moon Dancer (Majesty), Rara (Halle Nal).
Season 6: Flurry Heart, Sunburst, Ember (Amber), Zephyr Breeze, Gabby, Thorax (Crystal Hoof).
Season 7: Zecora, Soarin, Granny Smith (Madam Applecrest), Daring Do (Cameo from Pony Head).
Thanks to MrDerpface for helping me!
---
Featured on the popular stories list! (12/25/16-12/26/16)
Chapters (10)