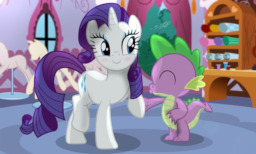 It's Hearts and Hooves Day and everypony has a special somepony... except Spike. He feels so lonely that he does the ultimate sacrifice: sell his soul to Tirek just for a kiss from Rarity. But what began as a little problem will develop as a race against time to save him from the Lord of Tartarus, who happens to be the one they least suspect. Based on 'The Devil and Homer Simpson.'
Thanks to forestpip for the editing. You're the real hero here!
Cover art by ShutterflyEQD.
Chapters (1)