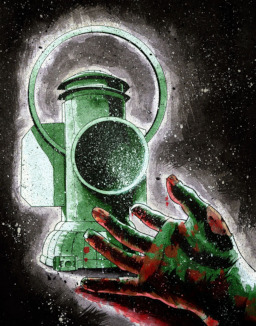 Source
The Green Lantern Corps. Protectors of The Universe, led by the ancient Guardians of Oa, these peacekeeping soldiers protect nearly every sector of the universe with one sole weapon: the Green Lantern Ring. But not all of the universe is under protection; there remain several patches of space unprotected by Guardian influence. In one of these Sovereign Systems rests a particular planet, Pax Harmonia, full of many creatures and governments; the most notable being the Kingdom of Equestria.
When a sole Guardian appears before the rulers of Equestria, Princesses Celestia & Luna, and asks for a favor from old acquaintences, the peaceful country will be forced to deal with the concequences of letting a creature out of myth twice fold live amongst them: not only a Green Lantern... but a human. A young, cocky human named Hal Jordan...
(Editing help is welcome [First MLP story & all], tags & rating MAY change depending on future directions)
Oh, yes. I own nothing.
My Little Pony, FiM are owned by Hasbro & Studio B.
Green Lantern & other related properties are owned by DC Comics & Time Warner
The cover art, while awesome, was not made by me. This piece was made by the very talented KrisJustice at Deviantart and can be favorited here: http://krisjustice.deviantart.com/art/Death-of-a-Green-Lantern-265021244
Cover art may be subject to change.
Chapters (8)