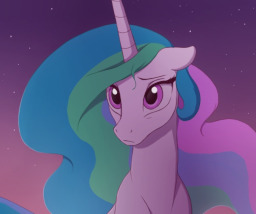 Source
Celestia has had many friends in her lifetime, with just as many falling outs and arguments as one would suspect to occur in those bonds that simply never stay. Most of the time, she parts ways peacefully with those she has argued with. Other times, she must view the aged ponies she loved on their deathbed and the immortal goddess must offer her farewell.
This is not one of those times.
---
Set before the events of the show.
Proofread by NorrisThePony
Contribute to the TVTropes page!
Chapters (2)