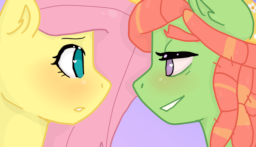 Fluttershy should be focusing on the protest that she organized for that day, but her mind is focused on one thing right now: her friend, Tree Hugger. Their friendship is deep and abiding, centered in their mutual love for nature, and in Tree Hugger's serene ability to tune into whatever troubles Fluttershy and help her center herself.
But could her feelings for her friend go deeper than she thought? With a little help from her friend, Fluttershy will explore the depths of her love, and she may discover a thing or two about herself.
A Flutterhugger/TreeShy shipfic.
Chapters (1)