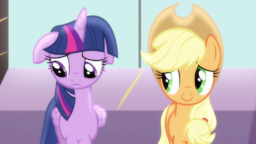 Source
Twilight is almost used to being an alicorn now. She's accepted that unexpected change, and is even happy about it, most of the time. Her magical abilities have grown by leaps and bounds, and she's starting to enjoy the freedom offered by flight. While she can't imagine ever being as good as Rainbow Dash, anypony with reasonable standards would by now consider her quite competent in the air.
But despite her growing enthusiasm and confidence, there's something that she has neglected to deal with. Something that's bothered her at times ever since the transformation, but kept getting shuffled down her list of priorities. Fortunately, she knows just the pony to talk to for help, and she won't let nervousness and self-reliant rationalization hold her back anymore. The latest of Pinkie Pie's parties provides a perfect pretext for a conversation she should've had months ago.
---
If you're confused by the date listed on the chapter, that's just when I originally uploaded it for pre-reader viewing. Life got in the way and I didn't get around to hitting Submit until Feb. 7, 2016.
Chapters (1)