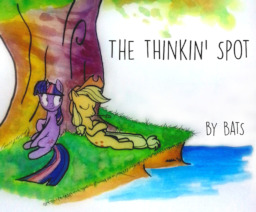 Source
Twilight's first Winter Wrap Up in Ponyville had a rocky start. Things took a turn for the better when she assumed control over the planning and organization, but after a stressful morning and with an all-nighter in front of her, she was afraid it might all be for naught. Luckily Applejack was there and knew Twilight needed a chance to take a break and recharge.
She needed a visit to the Thinkin' Spot.
Editing by Formerly Committed and JetstreamGW.
Chapters (1)