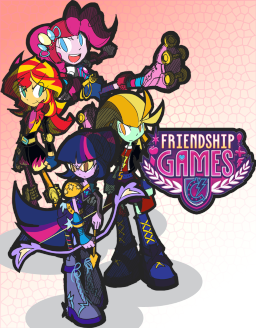 Note: This is a collaborative series my friend Abbeybunny13 and I are doing. The stories in this series are just guesses and fan speculation.

---
Chapters 1, 2, 4, 6, and 8 written by me, Tennis Match Fan.
Chapters 3, 5, 7, and 8 written by Abbeybunny13.
Audio readings by She Rolls.
---
The Rainbooms are performing the half-time show for the Canterlot High vs. Cloudsdale High soccer match. However, Sunset notices something different after the performance.
Audio reading
Rainbow suggests the girls try out sports. When she zooms away on a motorbike, without a helmet, Sunset Shimmer takes things into her own hands.
Audio reading
Indigo Zap and Sugarcoat spend an entire week ditching detention to practice for the Friendship Games. Can Sugarcoat keep her friend out of trouble with Vice Principal Shining Armor?
Rarity and Pinkie are going to go rollerblading. When Rarity has a fashion emergency, it's up to Pinkie Pie to save the day!
TBA
TBA
---
Cover art by Rvceric.
Chapters (4)