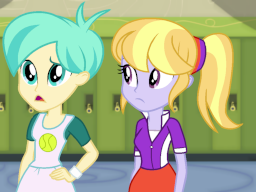 The prospect of competition excited Tennis Match more than the actual participation in competition, at least in the case of the Battle of the Bands. When she and Cloudy Kicks hit a creative wall, they decide to not participate.
It might appear that they're harmless spectators, but the duo can and do get into mischief.
---
Starring two background humans from Equestria Girls.
Chapters (1)