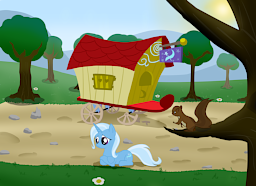 Trixie Lulamoon is traveling the same route through Equestria that she always has, pulling her show cart and only home behind her. When a wheel on that cart cracks and Trixie finds she can't fix it herself, help arrives in the form of a pony who leaves Trixie frustrated and confused, and perhaps just a little intrigued.
Written for the Everfree Northwest 2015 writing contest.
Special thanks to my lovely prereaders: Taialin, PathfinderCS, and Shadow Beam! Double thanks to Shadow Beam for also providing the cover art!
Chapters (1)