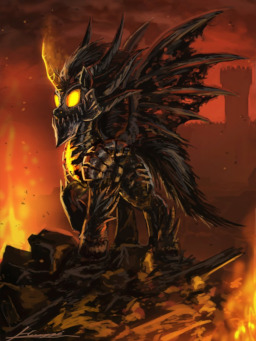 Source
In the land of Azeroth, the dragon aspects fought their former brother, Deathwing. The mortals failed them and they were unable to defeat him. In a desperate attempt to save their own world, they sent Deathwing to another world in hope that he would land somewhere unpopulated or simply die. Neltharion/Deathwing lands in Equestria, free from his own corruption he seeks to redeem himself and find his way home to his family.
Meanwhile Princess Celestia have a vision of Neltharion destroying Equestria and she sends Discord to find him before that happens.
Friendships will be made and be broken. Love will blossom and anger rekindled. But in the end, will Equestria survive? Or will it all be consumed in Fire?
Takes place after S4 finale but does not include S5 canon
World of warcraft crossover
There will be some shipping in this story and it will have somehwhat of an impact on the plot simply because I think it's too good of an opportunity to miss.
27/04/2015 UPDATE: All chapters have been corrected of most grammar related mistakes. Correction and editing was done by Exaxxion
This is my first fanfic, just so you know. Critique would be highly appreciated, since Im trying to get better at writing. Hope you enjoy the story.
Cover picture is by the amazing and talented Hussii. I have not asked permission to use his art as he, unfortunately, has been offline for over six months. If he by any chance stumbles across this fic and is not okay with me using his art, please message me and I will remove it.
Chapters (27)