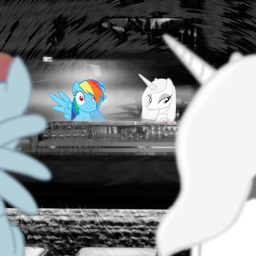 A bad day and a rainy night. It's enough to drive a mare to drink. Winding up in a dark bar on the streets of Canterlot, Rainbow Dash finds herself meeting up with a mare who is elegant, graceful, and totally gorgeous. All the qualities that Dash thinks she completely lacks. What the heck could they have in common?
On this particular night, far more than she might realize.
A collaborative effort between myself and TheLandgrave, told from two perspectives.
To see Fleur's side, click here.
Chapters (2)