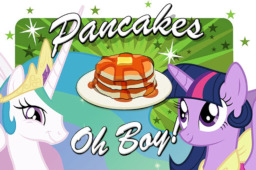 Cooking contests are tough. Cooking contests judged by princesses are tougher. Sometimes you think you need to go that extra length to get the best out of yourself. And sometimes you are wrong.
Rated Teen for some suggestive lines, but very innocent, really.
Written in about two hours, with absolutely no editing at all, so forgive any stupid errors. I just had to. Blame the art linked below...
SPOILER: Totally inspired by this hilarious and wonderful piece of art. CHECK IT OUT!
Chapters (1)