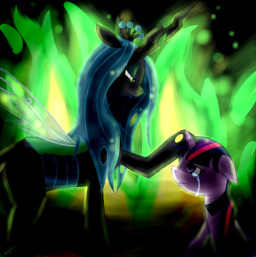 (Set a month after the events of the season 4 finale)
Chrysalis has returned to Canterlot, but this time under a flag of truce, instead of a banner of war. She has come because her race is dying, and much to everponies surprise, the last hope for her race is in Equestria.
However, nopony is prepared for the news of who is carrying this last hope, nor the ramifications of what this last hope is likely to bring.
Rating: Rated teen for some sexual scenes and violence in later chapters.
Warning Number 1: Later chapters may contain scenes of graphic violence, viewer discretion is advised.
Warning Number 2: Despite the similar title, this is not a ponyfied version of the movie Enemy Mine.
Warning Number 3: I know Twilight is a unicorn in the cover, but she will be an alicorn in the story, just so no-one is confused.
Warning Number 4: Twilight's brother Shining Armor will me getting a major change to his character portrayal throughout the course of this fic, a change that will involve some dark undertones, which is one of the reasons for the dark tag.
Final Warning: This fic will delve deep into a fannon portrayal of changeling hive structure, hierarchy, and culture, so those who already have head cannon's behind those and are unwilling to accept or tolerate new ones should probably steer clear of this fic.
Chapters (29)