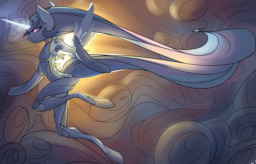 War is dead, destroyed by the ponies when the created the greatest weapon of all time, the M.A.G.E.'s. When they were released upon the battle fields against Equestria's enemies, they lost all will to fight, ending all war, and leaving the ponies with a weapon that was no longer needed.
But, thanks to a pair of pioneering individuals as well as the creator of the M.A.G.E. units, Equestira was soon able to partake in a new kind of entertainment, in the form of the Tower of Tartarus. In the tower, The M.A.G.E.'s were pitted against each other for the enjoyment of their pony creators, all of them trying to reach the top and win "The Prize."
However, one M.A.G.E. is different from the rest, for it remembers what others cannot, as well as things it should not. It has been to the top before, only to fall, but it shall rise again, and discover the truth about its existence.
A crossover between My Little Pony: Friendship is Magic and Rengoku 2: Stairway To H.E.A.V.E.N.
Tag Warnings: The romance tag is in regards to one of the underlying plot mechanisms driving the stories main plot, however there will be no romances developing between characters in the story.
Chapters (1)