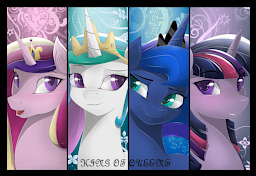 Herds. In a world inhabited by magical ponies, that's really not too surprising of a thing... unless that herd consists of four living, breathing goddesses and yourself.
My name is Glorious Radiance and I'm the King of Queens.
A/N: This story takes place several years after episode 1 of season 4, with the story line assuming that the rest of season 4 never took place.
This story is about a herd between an OC and the princesses. It takes a long time to get to the romance though because I'm not a fan of fast paced romances. The shipping will happen, but it's going to take a while so just keep calm and read on.
Chapters (12)