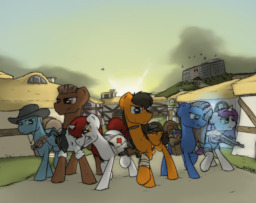 Source
Sunny is just a normal pony. He has a pretty normal life and a pretty normal job, but when ponies start turning into zombies and the streets run red, his definition of normal morphs. He and a group of ponies, thrown together by chance, must now brave whatever lies ahead. This is their struggle for survival.
This is their story.
[Author's note]: This was my first story, and the beginning chapters are sort of a rough grind. I'm working to better them, but until then they're not as good as I'd like them to be.
PS: Comments contain spoilers! You have been warned.
Chapters (21)