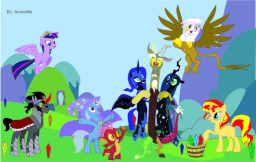 (The Human tag only comes up in later chapters with only one villain and a few minor characters.)
Nightmare Moon, the personal student to the good King Sombra, learns about the return of the dreaded Eternal Twilight. When she tries to warn him, he sends the young alicorn and her dragon assistant Smog, to a small town where she is to supervise the preparations for the Crystal Heart Celebration.
There she befriends five individuals: Sunset Shimmer, Gilda, Trixie, Chrysalis, and Discord. Together they redeem Eternal Twilight and turn her back into the kind Princess Sparkle. And it looks like things will be fine from then on...
But no prophecy could prepare Nightmare for what challenges await. Powerful foes will seek to break apart her new friendship. And an enemy that Nightmare knows nothing about seeks to obtain the revenge she has been plotting for years.
Will the magic of forgiveness and the power of friendship triumph?
*Featured on June 23, September 12, November 9, November 23, December 26 2014, February 7, and July 15 2015!*
Chapters (48)