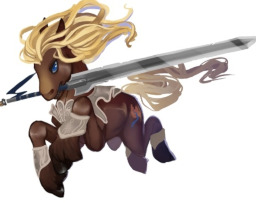 Brownie Sundae is a simple mercenary. She does her job and keeps her promises. All she wants is to find employment that won't leave a bad taste in her mouth, but when gods and devils conspire to create havoc, what can one pony do to stop them?
A Ponyfinder crossover. No knowledge of Ponyfinder is required to understand the story, but some basic background information is included in the author's notes for Chapter 1. This story takes place in the same universe as A Dangerous Sparkle and The Apple Falls Far from the Tree (both by David Silver), but familiarity with those stories is also not required.
The story is somewhat violent and I attempted to portray the violence realistically, which may disturb some readers.
12/11/2015 - New cover art by Sita Duncan! More of that sort of thing can be found in the Ponyfinder books.
Ponyfinder home page
Original source book
Chapters (12)