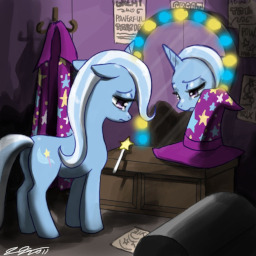 Source
Featured on March 20th, 2014 Thanks guys!
Thanks to Captain Bron3y for doing a dramatic reading.
"When I die, nopony will say 'it's a shame' or 'I'll miss her'. They'll say 'good riddance'
But even so, at least they know who I am. What really scares me is that when I die, nopony will remember me at all. I'm just a nameless face. An unmarked grave. At my funeral, will anypony cry?"
When Trixie takes her own life, she sends her final letter to the closest thing she's ever had to a friend.
[Author's Note: I'm sorry the description is so darn terrible. They're harder to write than the story! Thanks to Princess-Glitzy for figuring out whom the cover art belongs to!]
19/3/14 - Oooh! I see myself on the popular stories list! It may not be very high up, but yay! EDIT: Eeek! It made third place! Oh my gosh! You guys! It made first place on the Popular Stories list. Not sure that will last long, but hooray! Yes, I know it has no real significance!
20/3/14 - Oh my goodness! I feel like I'm accepting an Oscar or something. It was such a wonderful surprise to log on and see people congratulating me on getting featured, even if I did miss its time in the spotlight. This is an honour I never thought I'd have the privilege to accept.
Chapters (1)