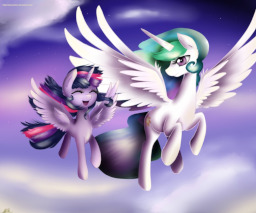 The past always comes back to haunt the present, there is no escaping the inevitable. For decades, Celestia has kept a secret from her student. A secret she made out of pain, and through pain will be revealed for all to see; for Twilight Sparkle is the secret daughter of the Sun.
Now, there will be consequences.
Consequences, they come in all shapes and sizes for every decision. For every action there is an equal and opposite reaction. These words are lessons that Princess Celestia should know, bits of wisdom she practices in her rule of Equestria. How is it then, that when faced with a decision, she chooses the one that would inevitably bring the most pain? How is it that she couldn't bear being recognized as the mother of her child? And why? Twilight Sparkle is about to find out.
---
Disclaimer: (I do not own the picture; Title Picture owned and designed by KitsuneHino; Source: http://mel-rosey.deviantart.com/art/By-my-side-364777307) (I do not own any of the characters, places, events, etc. outlined in this fanfiction, MLP FiM does under Hasbro, give them the credit.)
Chapters (9)