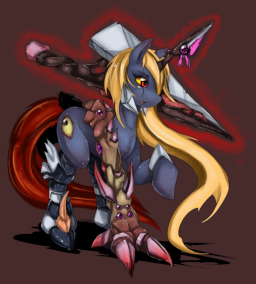 Source
Soul Edge, the unholy sword of gloom was given to the astral chaos, thus ending the madness of death that it brought in its wake...
Or so it was thought.
A small shard survived, and though the body was now gone the tiny fragment had survived. Within it was all the evil that the blade once did. It would ressurect itself... However, it would take till the end of reality for it to regain its full form.
And to the end and beyond it waited, building itself up from scratch, patiently awaiting a host to bear it once more..
A threat has appeared in Equestria, and has already taken the lives of hundreds. Not risking the lives of any more royal guard, Celestia sends her faithful student and friends to retrieve the Elements in a desperate attempt to wield them against the monster known as Nightmare.
Then, on the field of battle, the unexpected happens. The Elements seemed to have failed, but only to an extent. The enemy collapses on the battlefield...
Who is she, and why can't she remember anything?
---
A Soul Calibur Crossover. For the sake of the story, the pony in the picture is not Nightmare-Siegfried. In fact, they're not male at all. More characters will be added as the story progresses. Thank-you to the artist.
UPDATE: Featured! 12/16/2014
Featured! Again! 07/28/2015
Featured for the third! 08/11/2015
Chapters (6)