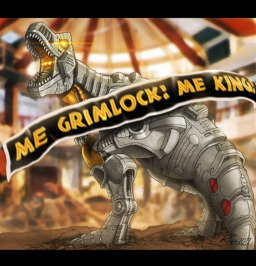 The war between the Autobots and Decepticons ravaged their home world of Cybertron, four million years ago in a battle that lead to the loss of many lives the two factions landed on earth through a space bridge, now only recently reactivated their war has been reignited on our world. Several years into the conflict Decepticons have began to attack human resources at an alarming rate, prompting Optimus Prime to believe that they are building another space bridge. With Autobots and resources at an all-time low he reluctantly calls upon the aid of the Dinobots. In the cold land of Greenland Grimlock notices the monster that made him, the mad scientist Shockwave, losing all control he attacks him head on, sending Shockwave, himself and several other Decepticons through the portal. Now Grimlock is in a world full of colorful, magical ponies... THIS should be interesting...
(ERNEHGAWD! It's on the popular stories list!)
Rated Teen: For sequences of violent robot fighting action and some possible adult humor further on, not sure if I should add dark tag, maybe if someone says I need it I'll put it up.
P.S. if you give it a thumbs down please tell me why you didn't like it, that would be appreciated.
Chapters (14)