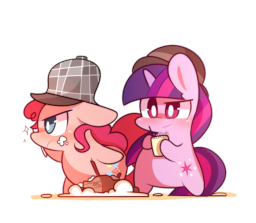 Source
When the Cakes are nowhere to be found, Pinkie Pie takes it upon herself to set up and run Sugarcube Corner for the day. A job like that needs some help, though, and Pinkie knows just the Princess to ask!
---
Written on a whim after a random S4 discussion in the Intelligent Shipping Discussion Skype chat. Check em out!
Thanks to Hivemind, Drunken Logic, and KrazyTheFox for proofreading! You guys rock!
Cover art belongs to ILifeLoser.
Chapters (1)