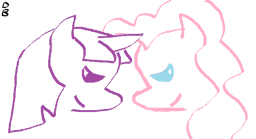 I write a lot of Twilight and Pinkie stories, and sometimes they are just too short to stand alone. In the interest of me and of Twinkie this anthology was born.
Kicked off by "Alliteration" this compilation features mostly romantic snapshots of everyone's favorite duo: Twilight and Pinkie. How exactly can the party pony and the scholar make any sense out of a relationship? Or maybe they'll find that not making sense is half the fun.
Rated Teen for occasional sensuality. The Cover image was drawn for me by the wonderful Donny's Boy you should go check his stuff out if you haven't already.
Chapters (7)