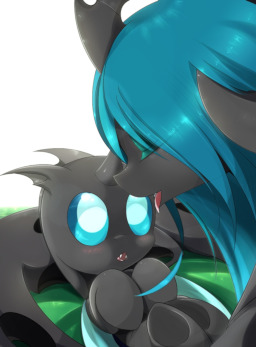 Source
Volucris - The Latin word for a bird or a winged insect.
Originally posted as a bonus/optional chapter of a story that I'm going to reboot/rewrite in the future, I've deiced to include this as it's own story in order to preserve it. No prior reading is required for this story.
Few would imagine us changelings as the religious type, especially since most of us are drones with no free will of our own. However, because we can not think outside of the hive mind of our mother Chrysalis, one could say that we are part of one of the most devoted religions on the planet. Today, young hatching, you will learn about the foundation of our faith Today you will learn how our goddess Volucris shed her mortal form, gave birth to our race, and why are bodies are filled with hollow holes. Today, we learn why we loath all of pony kind, and how their cruelty led to our glorious creation. License well brothers and sisters, for mother will know if your not paying attention. With that said, let us begin.
Chapters (1)