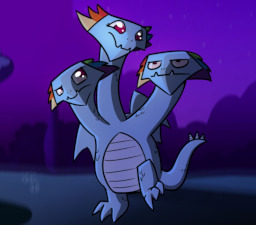 Source
Cover art done by my good friend Dmman892. Written before "Testing Testing 1,2,3"
Because she never took a mandatory test in flight school, her job as a weather pony and her dreams to be in the Wonderbolts are in jeopardy. Not confident in her study skills, she buys an expensive potion from a mysterious magic salespony. He told her it would "give her more brains" and "potentially" make her smarter. What he didn't say was that it would turn her into a multi-headed monster.
While her friends try and track down the peddler that conned her, Rainbow must find a way to deal with her new "companions" and try to prevent any more from spawning. Will she be able to turn back, or will she adjust to life as a Hydra? Either way, she still needs to pass that exam if she wants to keep her job.
All the while a single questions lingers in her mind - they let monsters join the Wonderbolts, right?
Rated T for Transformation. Also teen for some non-minor decapitations that don't result in death. Think of that running joke in Men In Black where the guy's head explodes and grows back.
Chapters (2)