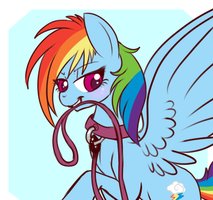 Source
(This story isn't a clop fic and the Sex tag is explained in a comment. I will not be altering the plot to include a lot of sex nor is the sex tag supposed to indicate so.)
After a hard day of working, Rainbow Dash has a conversation with Tank. She complains about being a hard working pony and how she wishes she could be a pet like him. During the conversation her mind begins to fantasize the sweet life of an owned pony and acts on it.
When Fluttershy is being given total control of another pony's life she doesn't know how to properly deal with such a responsibility. She slowly learns that having a pony you know as a pet isn't all that great.
Art by: lulubellct from Deviant Art.
Edited by: N/A
Chapters (14)