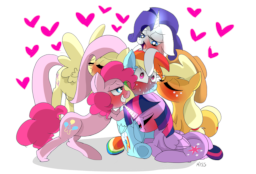 Source
Rainbow Dash has always been full of herself and always thinking that she was the coolest mare in Equestria. She had always suspected that all the mares were into her, jokingly. Then one day it suddenly started coming true...
When Spike tries to get help from Celestia he only sets off a chain of events that will forever change Equestria.
(Featured 7/22/14 filtered view only though)
(What? This actually got in the feature box without any filters on 7/23/14 Thanks for all the support guys.)
(Sex tag because of the nature of the dialogue and because reasons)
Art by PolyCysticOvary from deviant art. Used with Permission.
Chapters (5)