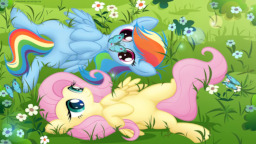 Source
Rainbow Dash has scored some sweet all access passes to watch a once in a life time Wonderbolts' show, she is excited for it.
Fluttershy wants to take Rainbow Dash to the butterfly migration and is excited for this year's trip.
They both want each other to come with them and with time being of the essence a choice has to be made.
Picture used with permission artist: *JunglePony
This was written as a self imposed challenge to not write anything regarding some "stuff".
Chapters (1)