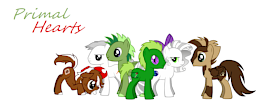 Source
Rated teen for mild language, adult themes, and because of an extremely paranoid author.
"Tank has always wanted to be a pony. So have the other pets, secretly. Well, his wish comes true."
What would you do if your pets suddenly turned into a pony and could talk to you? Be friends with them? Cherish and love them? What if that love went from friendly to... something more?
Story is better than summary! (At least I tried >.<)
Chapters (2)